Registered user management
My Wi-Fi Service supports an unlimited number of registered users who have access to the hotspot. These users are directly administrated in the homepage that displays a list that can be used to create, edit or delete registered users. On the left of each user there is a small icon that indicates the registration mode (manual, facebook, sms, web, etc).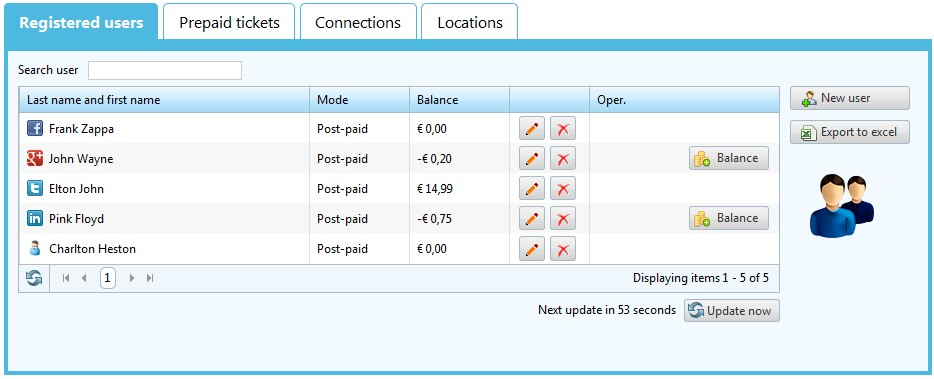 Using the buttons in this window, credit can be topped up, subscriptions enabled or renewed and forced logout applied to users in this list.
Creating or editing a customer displays a window that provides access to all customer data. This window is divided into three pages:
Main data
You can specify customer data, navigation method, rate plan, user group and authentication information in this page.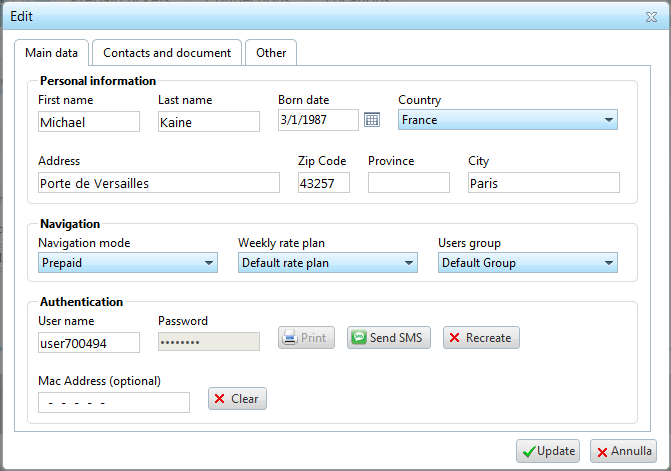 Keep in mind that the operator only sees the user's password during the creation of the user's profile. Once the window is closed, the Password can only be printed but will no longer be visible on the screen unless it is recreated using the button provided.
Finally, the last field on the page contains the User MAC Address. This is a unique code assigned to each network card in a computer. This code is very useful in Wi-Fi access to automatically identify customers. If this field is left empty, its value will automatically be set at the first login based on the MAC Address of the computer used for access.
Contacts and document
The second page lets you save customer document data and information on contacts (telephone, email, etc.).
Other
The last page can be used to access to flags to disable the user or set an account expiration. It also contains a "Notes" section to save text information and a button to print customizable conditions of use in preferences.