Prepaid recharges for registered users hotspot
By using prepaid recharges, customers can recharge their own accounts without the assistance of the operator of the establishment, who doesn't need to anything more than generate and sell the prepaid recharges.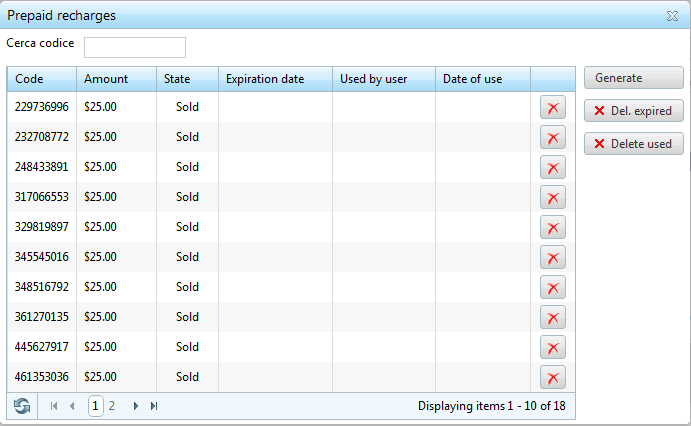 Customers can use the purchased recharges in two different ways:
While navigating: from a fixed or Wi-Fi station, users can enter the code of their recharge to immediately obtain credit for the prepaid amount.
Before access: if the prepaid credit in the account is not sufficient for access, the customer can access with a recharge.
A recharge is characterized by three different elements:
Amount : this is the value of the recharge that will be credited to the user's account.
Expiration date : optionally, the operator can set it so that it is only usable before a certain date.
Status (Sold or Unsold) : this element indicates whether the recharge has been sold or not. Customers can only use recharges that have been sold. This characteristic is especially useful if the recharges to be sold are visible in some way before purchase, such as when the operator displays them to show the different amounts available. In this case, the customer could write down the codes and attempt to use them without purchasing the recharge. This attempt would fail because the recharge cannot be used until the operator enables the recharge by setting it to "sold".