HOTSPOT ROUTER WI-FI INSTALLATION
Create a Wi-Fi hotspot with our Hotspot Router Self-installing is a very simple operation. Just have to connect it thru its WAN port to your ADSL modem/router and the system will immediately working.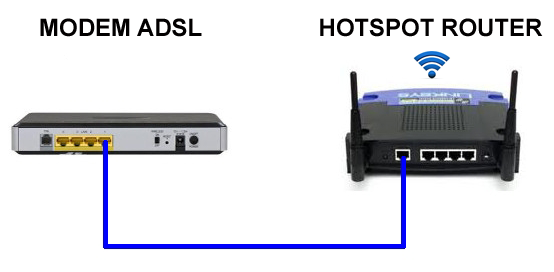 During the purchase of our Hotspot Router in order to get the router already configured with your account is essential to indicate the Username (login) obtained with the registration at My WiFi Service.
Otherwise, you can also use your own Wireless Router or Access Point: to create a Wi-Fi Hotspot with Softvision My WiFi Service, you need only a wireless router with Hotspot RADIUS authentication module (e.g. Mikrotik router) or a wireless router on which you can install an alternative firmware (e.g. OpenWrt, DD-WRT, CoovaAP) that supports RADIUS authentication.
Fortunately, most retail routers at least support OpenWRT or DD-WRT firmware.
Following the complete list of supported routers by My Wi-Fi Service:
Mikrotik routers (recommended)
Routers Wireless or Access Point with OpenWRT or DD-WRT firmware
Routers compatible with CoovaAP firmware
Open-Mesh systems
Linux PC
Windows PC
Any router that supports the RADIUS protocol and holds its own Captive Portal