How to use the My Wi-Fi service reseller Control Panel
The Reseller Area is a technical and commercial tool with which the Resellers will be able to create the "My Wi-Fi Service" accounts for their customers and easily formulate their orders.
A very interesting aspect is represented by the possibility of buying in complete autonomy, and at any time, without our intervention. In fact, choosing online payments by credit card or Paypal, the system will be able to automatically credit the services purchased (months and SMS). Of course you can choose to pay even with the other usual formulas (bank transfer, cash, etc.).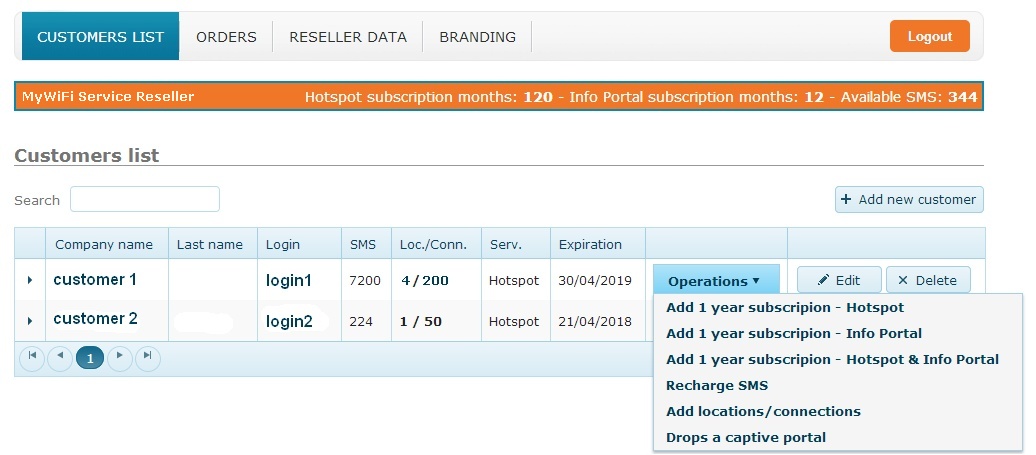 Now let's see how to place an order using the dedicated control panel:
1) login to the reseller area

2) Click on "Orders" in the top menù

3) Once the order is completed (only for payments by credit card or Paypal), the new month / SMS credit will be displayed in the summary bar highlighted in orange color. This credit can be used to activate services to final customers.

4) If the list of customers is still empty, create a new MyWiFi Service account by clicking on "Add new Customer" and follow the registration procedure by entering the required data.

5) Once the account has been created, it will be possible to use the credit acquired to activate the services to customers through the "Operations" button.

By purchasing an annual Hotspot (and/or Info Portal) subscription, 12 months of Hotspot (and/or Info Portal) will be credited, which can be assigned to the customer from the Operations menu by clicking on the items "Add 1 year of Hotspot subscription" or "Add 1 year subscription Info Portal".
You can also add locations and connections . For example, if you want to add a location (to allow a customer with an active account to manage an additional Hotspot router) or increase the simultaneous connections that the hotspot system can support, the system will deduct from the retailer's credit only the months remnants at expiration of the customer account, while the subsequent annual renewal for a hypothetical client with 2 locations and 100 connections will require 24 months of credit.
The procedure is similar for SMS: after the purchase, the messages (available in packages of 100/500/1000 SMS) can be credited to the customers from the "Operations / Recharge SMS" menu.
Branding (White Label)
Another very important aspect of the My Wi-Fi Service partnership program is the White Label thanks to which you can insert your logo into our application.
To customize the application simply click on the Branding menu. Within this page you can enter your company logo, change the graphic theme of the application and enter the address of the web page that your customers will use to access the My Wi-Fi Service control panel. In the yellow box there is also the Html code that will be inserted in the login page.